If you have just booked your holiday to the Arctic and are feeling a little unprepared and wondering what to expect, don't worry, we are here to help with some top travel tips for your trip to Northern Norway.
No matter the season you visit Northern Norway, learning how to dress in layers is the best tip you will every receive to prepare for the fast changing Arctic climate.
For an idea of which average temperatures to expect in the month you are planning your trip to Northern Norway, check our weather guide below. 
The weather in the Arctic changes quickly and sometimes we can even experience all seasons in a single day! This makes it  making it challenging to know what to expect and how to pack. So, here is an over-view of temperatures and precipitation in Tromsø to help get an idea: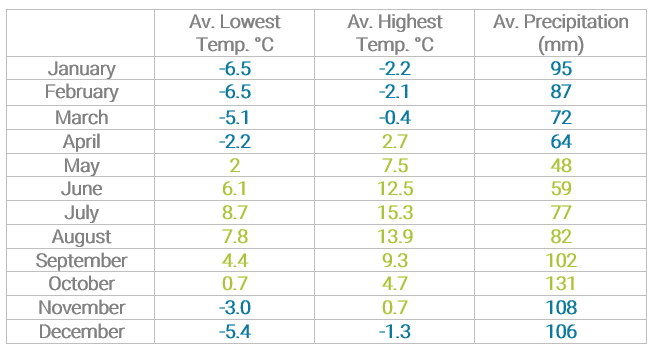 On average in Northern Norway, we have 160 days a year with at least 25cm of snow on the ground and 226 days of precipitation (including snow fall).
-19.4°C was the lowest temperature recorded in Tromsø (although the average hovers around only -4 °C which we thank the Gulf Stream of Mexico for), and 27.8°C was the highest.
https://northernnorwaytravel.no/tour/northern-lights-chase/Life in Northern Norway very much revolves around light due to the fact that we are located above the Arctic circle and experience polar nights and the midnight sun. This is why activities and tours this far north vary a lot. Here are some guidelines to help know which activities are available in which months:
Northern Lights: Mid-September – End March
Whale watching: End October – Mid-January
Dog and reindeer sledding: Mid-November -End April
Skiing: January-May
Hiking: June-November
Midnight sun tours: 21st May-21st July
Tours and activities tend to get fully booked, especially during the high seasons. For help pre-booking or designing your own tailored tour, email us at booking@northernnorwaytravel.no. Your Arctic expert will make organising your trip fast, simple, and hassle-free, and help you make the most of your time in Northern Norway. 
Depending on whether you are visiting norway to admire its natural beauties, unique culture, or are more into adventure travel, your packing will vary. But, here are two must-have items to pack: 
Whether you are a pro photographer or prefer to snap pictures on your phone, make sure to include your camera to your packing list. Norway is full of scenic spots both in and outside the city. If you are visiting above the Arctic Circle in winter and want to watch the northern lights, a good camera is highly recommended. 
As mentioned before, the weather changes quickly here, so when you are out exploring, you may need to remove or add layers. This is when a back-pack comes in super useful – trust us! 
5. Getting to Northern Norway
Connections to Northern Norway's largest airport, Tromsø, have never been better! There are a wide variety of both international ad domestics flights, making it possible to arrive to the Arctic from anywhere in the world!
It is the fastest and easiest way to travel, and our top tip is to get a window seat, because if you are lucky, you may be able to witness the northern lights, midnight sun, or snow-covered mountains before you even land!
Probably the most scenic way to travel through Norway is by taking a Hurtigruten cruise. Formally a transport freight, these coastal steamers now travel the entire Norwegian coast and make an excellent way to travel if you have plenty of time.
For the most adventurous travellers, you may consider renting a car and doing a road trip. The thing to consider is that the roads in the North are often small and windy, even the main ones, and are covered in snow throughout the winter, so we would only recommend doing this in the summer months. 
When planning to travel to Northern Norway, we highly recommend that you plan ahead. The Arctic is so diverse and offers so much from season to season, you will enjoy your visit much more if you have decided which activities and locations are on your check list. 
Visiting Northern Norway in the winter? Then witnessing the Northern Lights at least once is a must! A top tip is to book your Northern Lights chase ahead to ensure that it doesn't book out, especially in the peak season. You can book our 5 star rated chase here!
If you thinking about things to do in Norwegian summer , we would recommend an Arctic scenery experience to witness the midnight sun, fjords, and Arctic wildlife. Sounds interesting? Check out our Whale Island Fjord Tour!
7. Getting Around Northern Norway
Transport services in Tromsø such as trains, undergrounds and trams are non-existent in Northern Norway. So, if you are planning your stay in or around Tromsø, then we would suggest serveral means of transport:
Either pre-odering a taxi or grabbing one at the airport is a fast, easy way to get from Tromsø airport to the city centre. To pre-book, click here.
If you are a larger group, or fancy travelling VIP, you can book a mini-bus or a luxury vehicle here for either an airport transfer, or to get around Tromsø and the surroundings. 
There are public buses that you can use too. For information about prices, routes and tickets, click here.
There are wide range of hotels, restaurants, hotels and accommodation in Trosmo. 
A good tip is to pre-book your accommodation as they tend to sell out in peak seasons, and also to reserve a table at a restaurant if you have a certain one you would like to visit.
There are many places you can go to taste Northern Norway's Arctic cusine. Everyone should try the famous stockfish and a beer from Mack, the world's most Northern brewery, before leaving Northern Norway.