Renowned for its dramatic landscapes, rugged coastline, and mighty fjords, Norway attracts many nature-loving visitors every year. This means that many places have become popular, but there is still much to discover. Northern Norway, a far less explored region.
About Northern Norway
Northern Norway lies above the Arctic circle and is one of the best places to see Northern Lights. With its fascinating indigenous Sami culture, reindeer herding traditions and long skiing season, Northern Norway is becoming a winter wonderland hotspot for visitors between September and March. Summer has so much to offer too.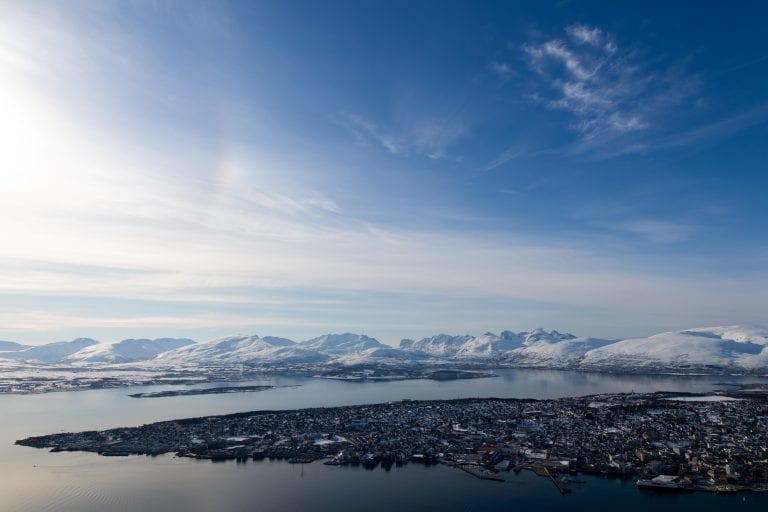 Why visit Northern Norway in the summer?
After the long, dark winter, the snow finally starts to melt giving way to a fast blooming spring. This magical time of year paints mountains in blankets of green and makes the sun rises so high in the sky it never sets. This picturesque scene is also home for many different bird species.
Summer temperatures in Northern Norway can reach up to 30 degrees, but more often hover around the low 20's. This surprisingly mild climate brings with it bountiful opportunities for nature-lovers, photographers, families and foodies to enjoy the outdoors in "the land of the midnight sun."
8 things to do in Northern Norway in summer:
1. Visit Tromsø, "The Arctic Capital"
Located 69o North, the Arctic city of Tromsø is set on an island between picturesque mountains, untouched beaches, and quaint fishing villages. Tromsø is the largest city in Northern Norway and has an intriguing background based on tales of fishermen and the stories of Arctic exploration. 
There are many things to do around this lively city including visiting a number of museums (Polar Museum, Tromsø Museum and Nordnorsk Kunstmuseum), the Polaria aquarium and the world's most northern botanical garden, brewery and glass blowing factory!
If you fancy learning about Tromsø, then our Tromsø City Walk Tour is the perfect tour for you, and includes a guided visit to Polar Museum and a tasty lunch! Or visit the highlights of Tromsø by minibus on our Tromsø Island Tour,  which includes a guided visit to Tromsø Museum, Fjellheisen cable car and a delicious Arctic lunch in our favourite local restaurant. 
2. Experience the Midnight Sun
From around the 20th May until the 22nd July, you can experience the Midnight Sun in Northern Norway. Be prepared to lose track of time in the endless light; but the long days will give you plenty of time to enjoy the outdoors.
Why not challenge yourself and have a true Norwegian experience under the Arctic sun? Join us on a Midnight Sun Fjord Tour to explore the Arctic surroundings and enjoy a cosy Norwegian campfire whilst watching the never-ending sunset. Or put on your walking boots and try a midnight sun hike to take in the magnificent views under the longest sun set you will ever see. Or perhaps you would rather relax on a boat and enjoy the views and sun whilst cruising around islands and fjords?
The options are endless, just email us for ideas at: booking@northernnorwaytravel.no
3. Exercise your right to roam
Take advantage of your "right to roam" (allemannsretten) whilst in Norway and plan a camping trip. This amazing law gives everyone the right to use land freely, enabling everyone to enjoy nature and providing endless camping opportunities. The rules are to be respectful and thoughtful to the locals and to the environment. See some useful guidelines here. Feel free to roam alone, or contact us to arrange your camping experience in the North.
4. Discover untouched islands and beaches
White sandy beaches and turquoise water may not be the first thing that comes to mind when thinking about Northern Norway but surprisingly, they exist! Exploring the beaches and the local islands just an hour drive from Tromsø is a must in the summer. Temperatures can get quite comfortable and reach 20o or more, giving way to perfect bathing opportunities. A refreshing swim in the Arctic should be on everyone's bucket list! Our Kvaløya Fjord Tour is the perfect way to experience this surprising Arctic scenery, and it includes lunch on Sommarøy island too!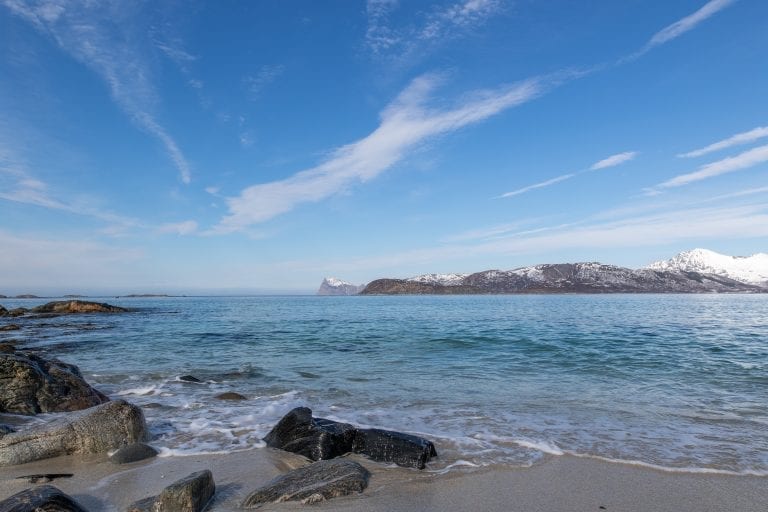 5. Put on your hiking boots!
Endless mountains surround the city of Tromsø offering spectacular hiking trails and views just an hour drive or less from the city! Whale island (Kvaløya) has 10 mountains over 700m, making it a hiking paradise. All you need are strong legs to reach the top and then you can reap the reward of a Norwegian "kitkat" (Kvikk lunsj). As your Arctic experts, we can arrange transport, rental equipment (warm clothes and boots), and guides services to help you choose the perfect hike for your level this summer.
6. Can you catch your dinner?
Are you in for fishing in the Arctic? There is nothing more rewarding than catching your own fresh fish from the chilly Norwegian waters and enjoying it for dinner. Or perhaps you prefer to relax and watch the midnight sun from the deck with a glass of wine? Whatever your choice, they are great ways to enjoy the summer seas. For availability and tours, contact us.
7. Northern Norway's local cuisine
Have a taste of the Arctic this summer. Northern Norway's diverse cuisine of fresh, local products includes cod, halibut and shrimp from the sea, reindeer and lamb from the mountains, and berries and mushrooms from the forest. Try one of many local restaurants and cafes in Tromsø. There are plenty to choose from!
For those who want learn and taste history at the same time, join the Full Steam Experience foodie tour where you will learn about Skrei, a special type of cod that made Tromsø what is it today. Cool down in a terrace with a beer from Mack, the world's most northern brewery, or enjoy an ice-cream, a Norwegian favourite!
8. Summer music and events
Tromsø is a lively city thanks to the student life, tourism and the 24 hour sunlight in summer. There are many music concerts and sports events you should not miss if you are travelling to Tromsø between June and August including:
Midnight sun concerts at the Arctic Cathedral: every night from 1st June- 15th August
Midnight Sun Marathon: 22nd June
Riddu Riddu: 10th July- 14th July Indigenous music and arts festival
Bukta Tromsø Open Air Festival: 18th July – 20 July rock, beer and seafood
Tromsø Mountain Challenge: 23rd August- 25th August