Kvaløya Fjord Tour
09:00-15:00
min 4 - max 12
Tues + Sat + Sun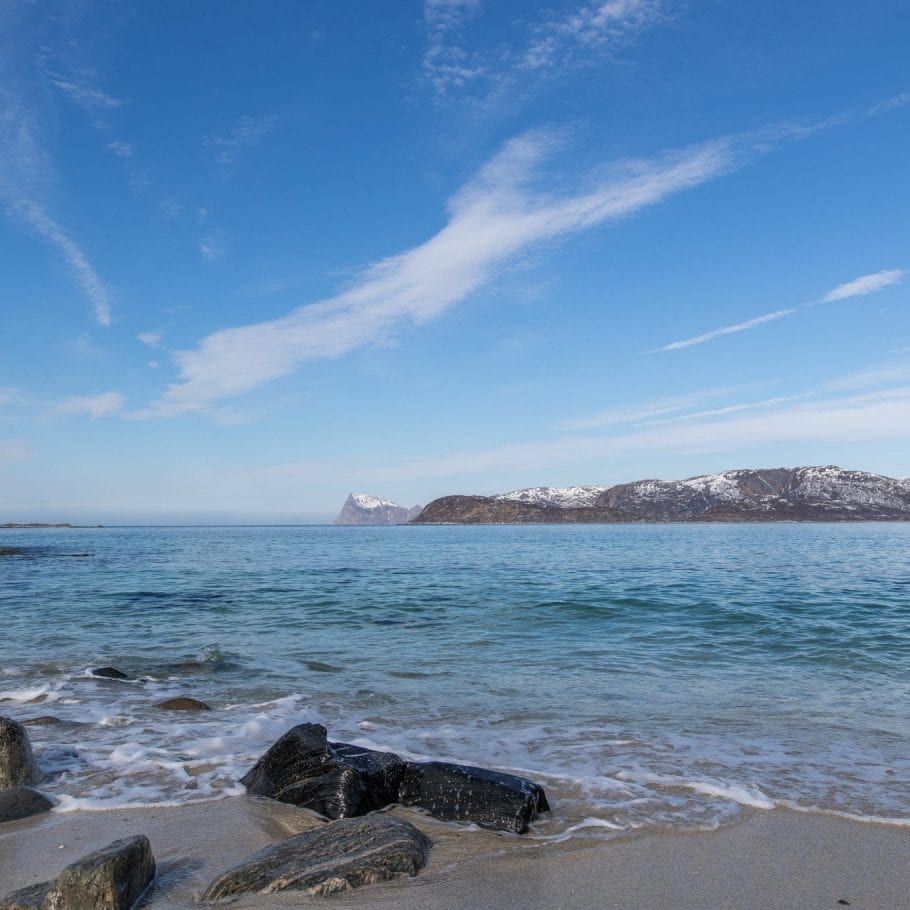 Take in the magnificent Arctic scenery of Northern Norway
Join us on a roundtrip tour around the picturesque island of Kvaløya (Whale Island) in a minibus. Take in the fresh, clean air and the breath-taking views of the mountains and fjords and capture the beauty through your camera lens.
Leave the city behind and head into the wilderness onto Norway's fifth largest island. See how locals live and keep your eyes open for typical Arctic fauna including eagles, sea otters, seals, foxes, elk and reindeer.
Stop at local cafes and shops to see and buy authentic Arctic products including locally produced food.
Make sure to wrap up warm as we will make several photo stops to admire the views of the mountains and fjords.
Have lunch at Sommarøy, where you can see stunning white sandy beaches.
Hotel pickup and drop off
Professional driver 
Knowledgeable guide
Drinks and snacks
A tasty lunch
Digital photos
Bring your camera
Wrap up warm
Bring comfortable shoes
Inform us of food allergies/requirements
Fjord Tour in KVALØYA - Northern Norway Travel 12 December Had a wonderful time on this day tour. Our guide, Apostolos, was informative and engaging. Because of the small group, it felt more personable.The driver, Kjetil,was also great, and was very helpful. They both ensured that we were comfortable and safe especially since the ground could be quite slippery due to the snow. Overall, my friends and I enjoyed the tour and we were fortunate to be able to enjoy the stunning views in relatively good weather. The duration of the tour was just right and we appreciated the snack break of hot beverage and cookies, while enjoying the marvellous views of the surrounding fjords.

Amazing Fjord tour What can I say except that everything was just perfect? Amazing organization, wonderful landscapes and well prepared guide and driver.
An extra mention to our guide Apostolos, he really brought the tour to the next level.
Our driver Redar was also great in giving us nice tips and explaining us the local lifestyle being him from Tromsø.
Keep up the good work guys!

Kvaløya Tour Schöne und interessante Eindrücke von Nordnorwegen. Apostolos unser Führer hat es sehr entspannt und liebenswert vermittelt. Wir haben durch ihn viele interessante Dinge erfahren. Super Organisation, gutes Essen in Sommeroy. Wer da noch jammert, dem ist nicht zu helfen. Eine relaxte Auszeit zum Polarlicht hunting.

Kvaløya and Sommerøya Fjord Tour - Something UNIQUE Such an unforgettable day! Our guide, Apóstolos, was very dedicated and enthusiastic. He explained very well everything and gave us a great opportunity to merge in the History of Norway too. Thank you, Apóstolos, efgaristó polí, and to the kind driver!!!

Kvaloya I've had a very nice trip to Kvaloya and Sommaroy island! The guide was super friendly and she knew quite a lot to tell and I was very happy to see much more than I would by public transport. I think the money on this trip was very well spend!

Great nature view and awesome pictures The owner is very warm and sweet to show us the very beautiful secenery of Somarry island, she akways shoot photos when we are very enjoy in the nature, you will see, wow.... so amazing photos.