10:30-13:30
12 max.
Fridays, Saturdays & Sundays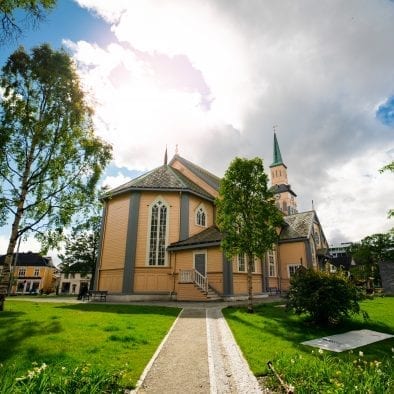 Travel through time on a historical journey around Tromsø
Wondering why Tromsø is nicknamed                        "The Gateway to the Arctic"? Join us on our city tour to find out!
Travel through time starting at the end of the ice-age, jumping into the 1800's, and ending with contemporary life in Tromsø.
Let us guide you around the city centre on foot as we visit Tromsø's most iconic places, tell stories about famous Arctic explorers, and show you statues, memorials, architecture, and historical buildings.
Visit the Polar Museum and build up your appetite for a delicious lunch at our favorite local restaurant.
Meeting point in our Northern Norway Travel Shop
Expert guide
Entrance to Polar Museum
Lunch at our favorite local restaurant
Bring your camera

Wrap up warm
Wear comfortable shoes
Inform us of food allergies/requirements
Guide Apostolos Der City Walk durch Tromsø mit Herrn Apostolos war sehr informativ und durchwegs spannend. Alle unsere Fragen wurden sehr freundlich und ausführlich beantwortet. Es gab keinen Zeitdruck und dadurch war es ein wunderbarer und höchst angenehmer und noch dazu sehr lehrreicher Vormittag.
Zum Abschluss war sogar noch ein wohlschmeckender Lunch in einem sehr gemütlichen Restaurant inclusive, bei dem wir von unserem besonders netten und zuvorkommenden Guide noch weitere tolle Tips für ergänzende Ausflüge bekamen.
Wer das Glück hat, mit Herrn Apostolos den City Walk erleben zu dürfen, wird mit vielen interessanten Details und Informationen zur Stadt und Gegend bereichert.
Sehr empfehlenswert.
5 Sterne

Explore the Paris of the North with Tromso City Walks Although we has already spent a few days in beautiful northern Norway including Tromso, we booked a city walking tour with Tromso City Walks.
Our guide was Eli and she is a very passionate and caring individual who proudly showed us around beautiful Tromso . One of the highlights of this tour was a visit to the excellent Polar Museum and our guide enhanced our visit with her detailed knowledge of the museum and its exhibits.
Our tour also included a wonderful lunch at Full Steam and i would certainly recommend this tour and thank you again to Eli for this wonderful walking tour.

Wonderful Tour We had an amazing time on this tour. Our guide Apostolos was extremely knowledgeable.He told us all the history and was a delight to be around. The lunch included itself was a highlight. Amazing fish soup. The booking process was a good experience. Edbert who helped us went out of his way to help.he was also a pleasure to deal with. I would definitely go again.great job guys.

Fantastic walk in Tromso A delightful walk through the town to the Polar Museum with our excellent guide Apostol, who was knowledgeable and super fun.
Thanks.
We love our pristine landscape and want to keep it that way. That is why we make our tours as nature-friendly as possible. We are proud owners of the Eco-lighthouse certificate.