Kayaking Experience
09:00-14:00
max. 6
Several days per week
Whole year available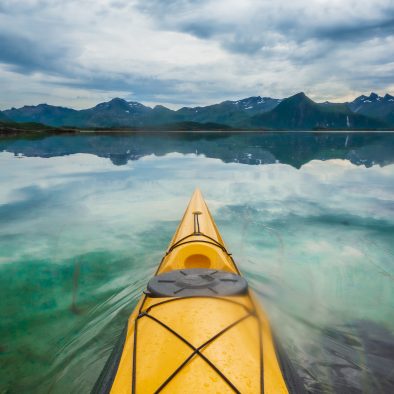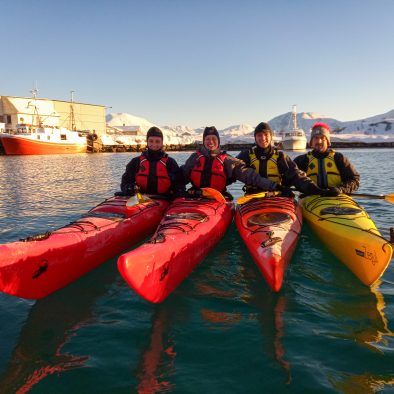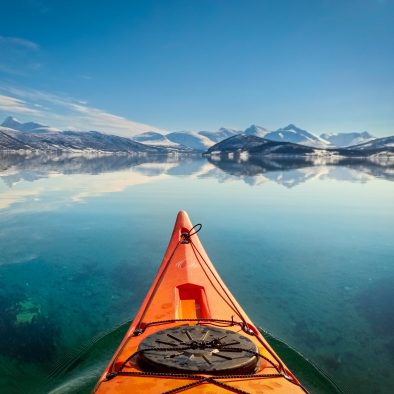 Have you always dreamt of kayaking in crystal blue waters, between snow-capped mountains, endless fjords and countless islands in the Arctic winter?
Join us on this unique experience and explore the Norwegian fjords from the sea. Our certified kayaking guide will pick you up from your hotel and drive to a scenic beach on "Whale Island" (Kvaløya). From here you will get all the necessary equipment and a detailed briefing before stepping into your own kayak. Feel safe and comfortable throughout the trip as your guide will always be close to you.
Once we are out on the water, we will make some small stops to enjoy the magical Arctic scenery. As a highlight you can choose to float in your dry suit in freezing Arctic waters!
** We require a minimum of 4 passengers for this tour **
*** If weather conditions do not allow us to go kayaking, we will change the activity to snowshoeing 24 hours' in advance of the scheduled departure time ***
• Hotel pick-up and drop off​
• Kayaking gear
• Dry suit with warm fleece base layer
• Warm gloves and hat
• Drybag for valuables
• Hot drinks and snacks
• Digital photos of your trip within 24 hours
• Bring your camera
• Wear warm wool layers
Breathtaking once in a life time experience On my bucket list! Traveled to Norway from Puerto Rico with my sister and two friends praying we would be blessed with viewing the Northern Lights. Luckily walked into Northern Norway Travel and found Javi and Lautaro who instantly formed a bond with us. They were friendly, courteous and professional providing us with all the info we needed to decide what we wanted to do. The following night we were again extremely fortunate to have Nora as our guide. She was the perfect guide to the most wonderful lights experience. She went out of her way to keep us warm, happy, and informed. We were able to see the lights for an extended period of time and get the most wonderful pictures to evidence our experience. She picked the perfect spot! She helped with our cameras including providing tripods, without which we would have not gotten such great pics!
Absolutely recommend this company for your Northern Lights experience! You'll not regret it We didn't!!

Fjord Tour in KVALØYA - Northern Norway Travel 12 December Had a wonderful time on this day tour. Our guide, Apostolos, was informative and engaging. Because of the small group, it felt more personable.The driver, Kjetil,was also great, and was very helpful. They both ensured that we were comfortable and safe especially since the ground could be quite slippery due to the snow. Overall, my friends and I enjoyed the tour and we were fortunate to be able to enjoy the stunning views in relatively good weather. The duration of the tour was just right and we appreciated the snack break of hot beverage and cookies, while enjoying the marvellous views of the surrounding fjords.

Explore the Paris of the North with Tromso City Walks Although we has already spent a few days in beautiful northern Norway including Tromso, we booked a city walking tour with Tromso City Walks.
Our guide was Eli and she is a very passionate and caring individual who proudly showed us around beautiful Tromso . One of the highlights of this tour was a visit to the excellent Polar Museum and our guide enhanced our visit with her detailed knowledge of the museum and its exhibits.
Our tour also included a wonderful lunch at Full Steam and i would certainly recommend this tour and thank you again to Eli for this wonderful walking tour.

Amazing Northern Lights The tour is amazing.

The guide and the driver very friendly.

The agency pick you up in your hotel and later they bring you go a museum-restaurant to drink a Tea or Coffe and watch a video about Aurora Bolears.

In a small bus, up to 15 people, we go a camp base close the lake shore. Here We could see the Aurora Boreals.

It is included in the base camp, a nice fire, hot drink, two small sandwichs and a warm suit. The warm suit is comfortable.

I recomed you 100%

Kvaløya and Sommerøya Fjord Tour - Something UNIQUE Such an unforgettable day! Our guide, Apóstolos, was very dedicated and enthusiastic. He explained very well everything and gave us a great opportunity to merge in the History of Norway too. Thank you, Apóstolos, efgaristó polí, and to the kind driver!!!

Kvaloya I've had a very nice trip to Kvaloya and Sommaroy island! The guide was super friendly and she knew quite a lot to tell and I was very happy to see much more than I would by public transport. I think the money on this trip was very well spend!

Funny and amazing evening / night Although the weather was not totally with us, we had an interesting and good evening witht the guides Apo and Max. Many thanks for it, also to Cassandra and of course Mr. Safety, driver Jarek.
We enjoyed it a lot.

Northern Light Chase Nora (2 Noras) really went extra mile. Had so much memorable experience chasing the light. Thank you again and Tromso is really one of the best place I've been.

Fantastic walk in Tromso A delightful walk through the town to the Polar Museum with our excellent guide Apostol, who was knowledgeable and super fun.
Thanks.