Northern Lights Coach Chase in English + Spanish
6-9 hours
48 max.
November - March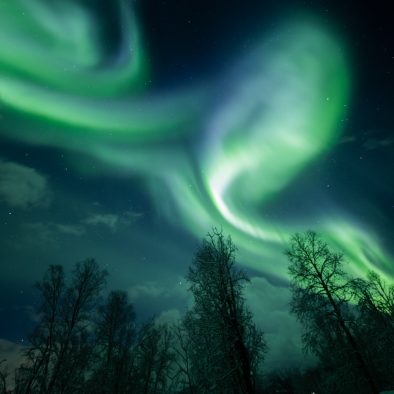 A fun chase for all ages and groups...
Join us on a comfortable, warm coach chase to see the breath-taking Northern Lights.
Meet us in Tromsø city centre and leave the bright city lights behind. Your knowledgeable English- and Spanish speaking guides will search for clear skies and a dark place to set up camp.
Keep warm around a campfire (weather permitting) and enjoy some hot beverages while we wait under the Arctic sky for the aurora. Your guides will help you to set up your camera for night photography as well as take pictures of the night which you will receive for free within 24hrs. 
This tour is perfect for those who want an affordable option to join several chases and maximise their chances of seeing Northern Norway's beautiful dancing lights. 
NOTE: If we have less than 16 bookings, we will change the coach to a Mercedes Sprinter (no WC on board). 
Professional driver
English- and Spanish speaking guides
Campfire
Hot drinks and snacks
WC on board
Heated bus
Aurora/winter portrait
Digital photos within 24hrs
• Meet us outside Scandic Ishavshotel at 17:45
• Bring your camera
• Wrap up warm
• Bring hat, scarf, and gloves
• Wear comfortable shoes
• Bring some snacks
SUPERB! Thanks, Nicholas our wonderful, informative, persistent guide and Janek?, our careful, good-humoured, considerate driver for an excellent 'once in a lifetime' Northern Lights experience yesterday, 22/1/20. Due to dubious weather in Tromso, we were not initially hopeful, but ended up enjoying a truly awesome light show.
There were 10 of us in a comfortable mini- bus, a perfect group size.
We appreciated the informative video clip and hot drink at the start, Nicholas' patient advice, beautiful photography and promised email link within 24 hours, relaxing on reindeer pelts around a campfire in our warm 'Michelin man' snow suits, tasty reindeer and salmon wraps, hot chocolate ( and other choices) plus gingerbread cookies. Pickup was at 6:30 pm and return to accommodation was at 2 am, so it was a long, but exhilarating night.
Highly recommended: go for it! 👍

What a night! My wife and I thoroughly enjoyed the Northern Lights tour we were fortunate to participate in last Sunday night with your company. Our guide Apostolos made the evening one to remember with his great knowledge and enthusiasm. Not only did we see the "Northern Lights' in all their glory, but we also learnt much from our young guide on their scientific basis. Tommy our driver was also most helpful and you felt you were in safe hands in the trio. Thanks guys, you made the evening very special for two "oldies" from down under. We would highly recommend this tour, with the above guide to anyone considering this tour. Con and Elvera

Wonderful experience!! Partecipare a questa esperienza è stato qualcosa di unico! Il cielo su Tromso da giorni era coperto e vedere l'aurora boreale era difficile. La nostra guida, Apo, ci ha portato nel cuore dei fiordi norvegesi e siamo riusciti a vederla! Siamo partiti in gruppo (11 persone) con un minibus e insieme, attorno ad un fuoco e del buon cibo locale, sulla neve, abbiamo aspettato fino a quando l'aurora ci ha regalato uno spettacolo unico! La nostra guida, Apo, è stato molto professionale e coinvolgente. Ci siamo trovati molto bene con lui. Consigliamo questa attività!

Amazing Northern Lights The tour is amazing.

The guide and the driver very friendly.

The agency pick you up in your hotel and later they bring you go a museum-restaurant to drink a Tea or Coffe and watch a video about Aurora Bolears.

In a small bus, up to 15 people, we go a camp base close the lake shore. Here We could see the Aurora Boreals.

It is included in the base camp, a nice fire, hot drink, two small sandwichs and a warm suit. The warm suit is comfortable.

I recomed you 100%

Caza guiada de Auroras Excelente y súper recomendable, nuestro guía Lautaro fue un maravilloso buscador de auroras y si bien el tour era en inglés, tuvo la deferencia de explicarnos en español también, nuestro conductor Magnus muy seguro y eficiente, colaboró en todo momento para q estuviéramos cómodos y seguros. Yo olvidé una pertenencia dentro de la van y al otro día estaba aguardándome en la oficina. Unos genios!

paulinesI2260CA

12/08/2019

Brilliant Nora Manu and our driver Dzvorcek were fantastic. They made the experience informative and enjoyable along the way. Their commitment to making sure everyone has a good time is excellent. My husband and I would certainly recommend this trip.
We love our pristine landscape and want to keep it that way. That is why we make our tours as nature-friendly as possible. We use a fire pit, resuable metal mugs, and plastic free food packaging. We are proud owners of the Eco-lighthouse certificate.